Odi's Cookies has been in existence for 10 years
in the heart of New Orleans. All products are manufactured
in New Orleans with the finest ingredients.
The cookie line consists of the Original Butter, today the cookie line
consists of Butter filled with Apricot, Raspberry, Chocolate Cream,
Vanilla Cream or Lemon.
"Praline in a Cookie" a New Orleans original was
specially formulated and dedicated to the City of New Orleans.

Custom products and labels are offered. A favorite custom product
made exclusively for Jimmy Buffet's Margaritaville in New Orleans French Quarter
is the Key Lime Cookie packaged in their fushia and green theme colors.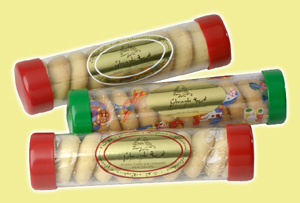 All products are available in seasonal themes; Christmas, Hanukkah, Jazz,
New Orleans, Valentines, Mardi Gras, Easter, Halloween, etc.
The corporate gift canister is a hot item, especially in the Holiday Season.
Odi's Moises Delicacies, Inc. is a manufacturer selling by appointment only, retail,
mail order, and wholesale distribution to the finest cafes, gourmet retail stores
and specialty stores.
---
Home Page | About Us | Our Delicacies | Contact Us
Odi's Moises Delicacies, Inc.
P.O. Box 57884, New Orleans, Louisiana 70157
504-482-1070 - fax: 504-482-0380
toll free: 1-888-482-ODIS (6347)